9Honey Royal Commentator and author Victoria Arbiter spent her latter teen years at Kensington Palace, so who better to give us a real insight into the happenings of the British Royal Family?
In this week's column, she's taking a look back at a history-making monarch…
The list of places around the world named for Queen Victoria is extensive. 
Australia alone is home to 22, including Victoria Park in Perth, Victoria Dock in Melbourne, Lake Alexandrina in South Australia, and the states of Victoria and Queensland. 
There are 53 spots across Canada, 17 in Hong Kong, 16 in India and nine in New Zealand. As for the UK, well, there are gazillions.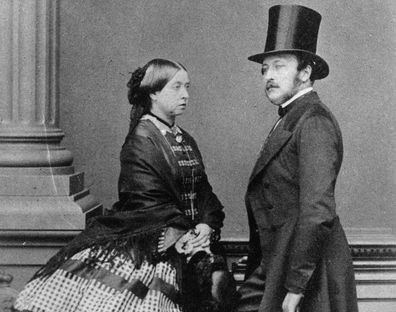 All in, 118 years after her death, Queen Victoria remains well represented across 33 Commonwealth nations, making her one of the most commemorated individuals on the planet. 
This month marks the 200th anniversary of Queen Victoria's birth, and her influence across all echelons of society remains broad. 
From Christmas trees to white wedding dresses, she's credited with popularising many of today's customs and traditions. 
The Victorian era is one characterised by rapid change, ingenuity and developments in virtually every arena. It was a time of prosperity, great political reform and one dominated by strong family values. 
The years spanning Victoria's reign witnessed the world's first industrial revolution.  Bicycles, typewriters, electric light bulbs, rubber tires and flushing loos were all introduced during her tenure.
WATCH: Victoria Arbiter walks us through the modern Royal Family tree. (Post continues.)
In 1840 the world's first postage stamp was issued. The Penny Black, featuring the Queen's profile, sold for just a penny. 
Alexander Graham Bell was awarded a patent for his invention of the telephone, the world's first underground railway (the Tube) opened in London, and the Great Exhibition displaying technological wonders from false teeth to telescopes attracted over six million people. 
Today Queen Elizabeth loves to travel by train, but Victoria was the first British monarch to do so when she and her husband, Prince Albert, were accompanied by British engineer, Isambard Kingdom Brunel, for a 25 minute rail journey in 1842.
There were significant breakthroughs in the field of science.
The Vaccination Act of 1853 made it mandatory for children born after August 1 to be vaccinated against smallpox, and there were major developments in the use of anesthetics and antiseptics.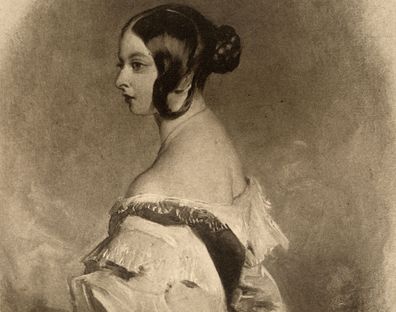 Victoria famously described chloroform as "delightful beyond measure" after inhaling it from a hankie during labour with her eighth child, Prince Leopold. 
Queen Victoria was the nation's 35th monarch, and only the fifth queen since William the Conqueror took the crown more than a thousand years ago. 
She was the first British monarch to see her name given to the period of her reign while still living. 
Victoria was born at Kensington Palace on 24 May 1819. Fifth in line to the British throne, she was the daughter of Prince Edward, Duke of Kent and Strathearn, the fourth son of King George III. 
Upon her birth it was thought highly unlikely she would ever become Queen, but on 20 June, 1837, less than a month after her 18th birthday, she succeeded her uncle, William IV.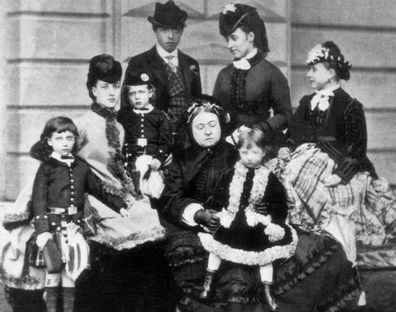 Victoria wrote in her diary, "I was awoke at 6 o'clock by Mamma, who told me the Archbishop of Canterbury and Lord Conyngham were here and wished to see me. I got out of bed and went into my sitting-room (only in my dressing gown) and alone, and saw them.
"Lord Conyngham then acquainted me that my poor Uncle, the King, was no more, and had expired at 12 minutes past 2 this morning, and consequently that I am Queen." 
Victoria was Britain's longest reigning monarch until her great-great-granddaughter, Queen Elizabeth II, broke her record on 9 September 2015.
Prolific as she was, much of Victoria's life was tinged with sadness. Her father and grandfather died within a week of each other when she was less than a year old. 
LISTEN: The Windsors podcast takes a look at the incredible reign of another record breaking monarch: Queen Elizabeth II. (Post continues.)
Though thoroughly spoilt by those around her, she lived an isolated childhood under the care of her overly protective mother, the Duchess of Kent, and Sir John Conroy, the ambitious comptroller of her mother's household. 
Together, the Duchess and Conroy designed the Kensington System, a set of strict rules intended to bend the will of their passionate and headstrong charge. Victoria shared a bedroom with her mother, studied with private tutors and was forbidden the company of other children. 
Even when she became queen, as an unmarried woman, social convention required she remain living with her mother, but with the pair still at odds, the Duchess was relegated to a remote apartment at Buckingham Palace.
The Queen refused to be bulldozed into marriage, but in October 1839, only five days after he'd arrived at Windsor, Victoria proposed to Prince Albert.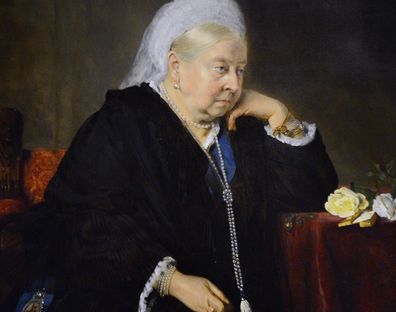 She described him in her diary, saying, "Albert really is quite charming, and so excessively handsome… a beautiful figure, broad in the shoulders and a fine waist. My heart is quite going." 
The couple were married four months later on 10th February, 1840.  Deeply in love, they welcomed nine children before Albert succumbed to typhoid in 1861 at the age of 42. 
So devastated was Victoria by the death of her husband that she descended into deep depression and wore black for the rest of her life. 
As one might expect with a reign as long as Victoria's, her popularity endured the occasional wobble.
She survived eight assassination attempts as well as her people's frustration over her lengthy withdrawal from public life following Albert's death. But, overall the duty-bound Victoria instilled a renewed sense of dignity and pride in the monarchy. 
At the time of her death in 1901, a profound sense of grief swept the country.  As royal biographer Elizabeth Longford stated, "…she was a very great Queen." The numerous landmarks, places and monuments dedicated to Victoria around the world attest to her subject's affections.
One hundred and seven years from now, when historians mark the 200th anniversary of Queen Elizabeth II's birth, they too will look back at a time ripe with sweeping reform, technological advancement and dramatic socio-economic changes. 
There's no telling what the world will look like in 2126, or indeed who will be wearing the crown, but it's my hope that after a possible reign of successive kings, the nation will once again count a queen as head of state. 
The two longest reigning monarchs in British history have been women, and they have each presided over what could arguably be described as the most progressive and enlightened of times.
Note: During its annual summer opening, beginning in July, Buckingham Palace will honour the 200th anniversary of Queen Victoria's birth with a special exhibition, Queen Victoria's Palace
(Excerpt) Read more
Here
| 2019-05-17 22:14:00