Chad Da Don is one of the rappers that were signed on Cassper Nyovest's stable Family Tree but departed in time. Chad left the stable back in 2016, during an interview with IOL he expressed how Cassper wasn't true to him.
"I thought that homie (Nyovest) would've at least been true to me like I was to him. Before his success, I was there. Before Gusheshe, he asked me if he could be on my song, Hola. People say he put me on. You don't have any clue where I come from.
"I do like Cassper, he's a dope rapper. But we got into the label thing and I wasn't allowed to release music for a while and, like I said, I don't blame anyone. When you're the biggest rapper, it's all about you. But you should have never asked me to be a part of your squad then. Chad is Better is this boy breaking out of this cage and just being himself and you seeing his greatness and power that people never thought he had.' said Chad back in 2016.
On a latest tweet he went on to share how he doesn't regret leaving Family Tree probably looking into what he has achieved ever since.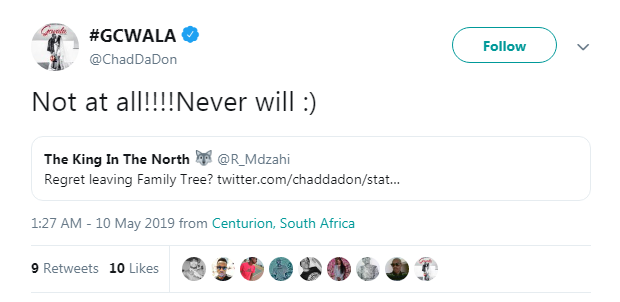 (Excerpt) Read more
Here
| 2019-05-10 20:23:21